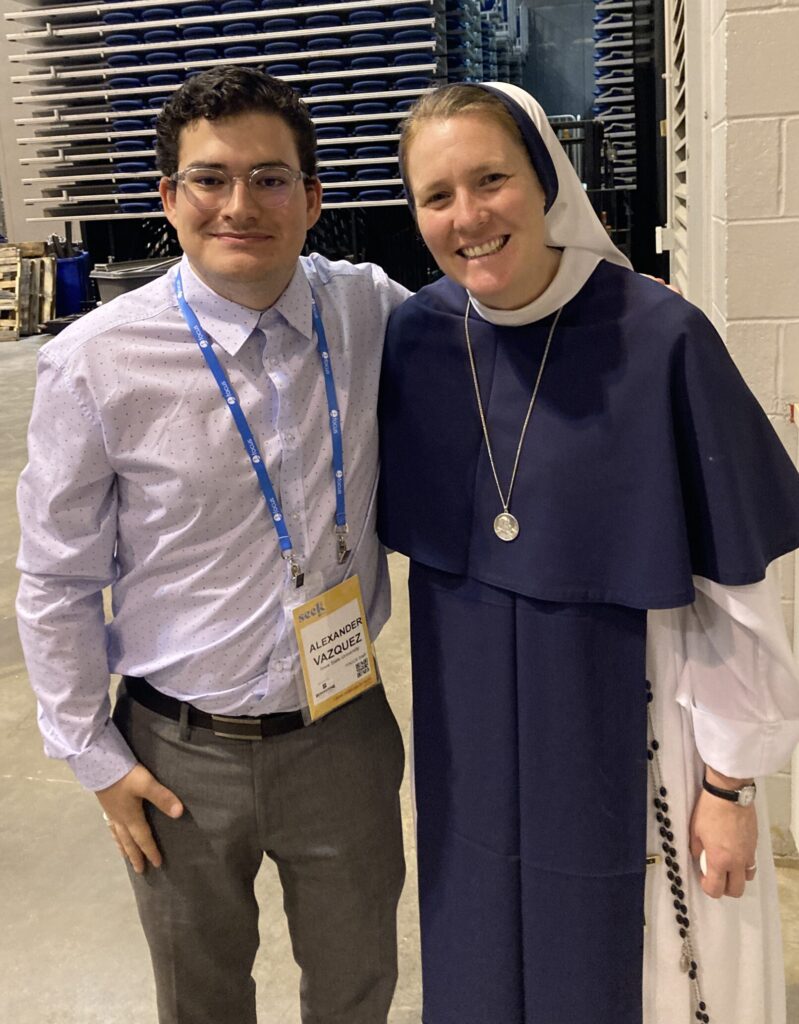 Hi, my name is Alexander Vazquez, and I am a FOCUS missionary. I am originally from New York! Before accepting this position in which I felt a pull to by God, I was studying at the University of Iowa State and recently just graduated last December with a degree in Spanish and Mathematics. It was over the span of four and a half years that I learned I was made for more and to share the Gospel. I do also have to preface that while growing up, I got the opportunity to live in three different countries, those being: The United States, Ecuador and France. This made me develop the skill to learn different languages and I do speak these fluently!
Faith is very important for me. Growing up I was baptized, received first communion and confirmation by the Catholic Church. I did not know how much of an impact this would have in my life in the long run and where I am today trusting in God's providence. As a kid everything seemed harder because I was not praying consistently or receiving the sacraments at a consistent level.
Iowa State was a time for growth for me, and this is also where I first encountered a FOCUS missionary who invited me to join a purity group and a bible study my freshman year. It was the hardest thing someone had asked me to do in a while, being vulnerable with others. This led into having fruitful friendships, centered around the Lord, and sharing our daily lives with Him. This then led to having opportunities to also be a leader at the church and slowly but surely, I was able to be part of a worship band singing for the students. As well as being more involved at mass by being a eucharistic minister or even living at the church as a peer minister. It only takes one invite to follow Christ and for you to say YES.
I accepted to be moved to Denver and share what I have learned with others about my faith. It is a leap of faith in itself, not knowing what the circumstances would have looked like. I do live with ten other missionaries and it has been difficult at times, but we help to make each other grow in whatever we see from one another. Serving at St. Elizabeth of Hungary has been nothing but good for me, as I have been learning how to be more present at mass, while altar serving and maybe sometimes, reading the Word of God, or even learning how to incense.
Enough about me, one of the main reasons I am here is so that I can continue growing in my faith and have the opportunity to share the Gospel with my new community and especially the college and university students, inspiring and equipping them for a lifetime of Christ-centered evangelization, discipleship, and friendships in which they lead others to do the same. These can happen through bible studies or even spending time with them and sharing the joy of how my life is going.
Finally, I would just like to say that I have felt so welcome the moment I came here and could not be more thankful for the community of St. Elizabeth of Hungary and how I have been involved already so easily in it.