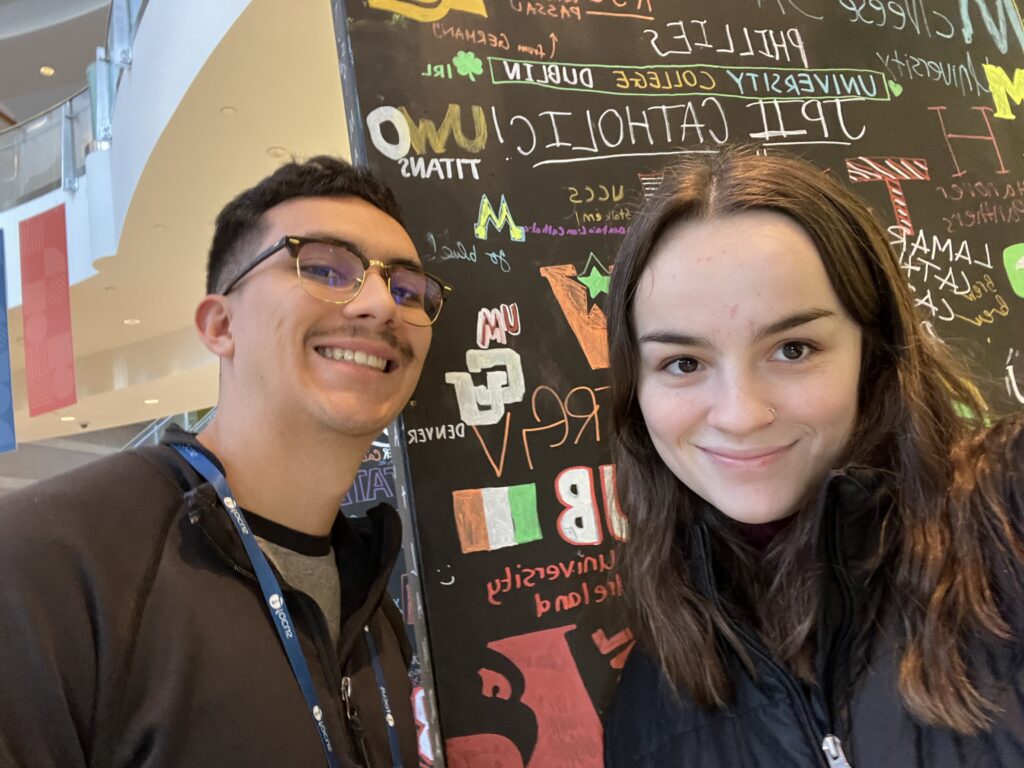 My name is Dominic Black Polanco, I'm 22 years old and am a Colorado native. I was raised in a somewhat Catholic family, and I was baptized around ten years old; however, I strayed from the Catholic faith shortly after this. I lived for many years without God in my heart and without hope. This changed when I stumbled upon a Focus flyer on campus during the fall semester of 2022. I scanned the QR code on the flyer and was contacted by a few Focus missionaries pretty quickly.
After being contacted by the missionaries, I joined a Focus bible study, and I let God back into my life. I started to attend weekly Mass, and I immediately saw positive changes in my life, from my relationship with God to all other relationships that I took part in. After a few weeks of bible study, I was given the opportunity by the Focus missionaries to attend SEEK 23 in St. Louis Missouri. Thankfully due to the diligent fundraising by missionaries and the generosity, I was able to attend SEEK with my girlfriend for free. As I stated previously, I had moved away from the Catholic faith at a relatively young age, in turn I had never had an experience like SEEK.
Initially, the SEEK experience was a bit jarring, from the late night bus ride to the chaotic hotel situation; however, when the conference started all of my quarrels about the experience were eased. I had never in my life been surrounded by that many individuals, all with one common goal, belief, and devotion. Being able to interact with these individuals without any apprehension about their core beliefs was incredible. The seminars during the conference were also phenomenal. My favorite by far were the male oriented ones, which focused on topics such as how to live life in the 21st century unashamed to be a Catholic. Other talks on heated topics such as abortion and same sex attraction were interesting and a welcome change from the taboo that exists around them in society. SEEK also gave me the opportunity to experience new things; for example, when I arrived I had never participated in adoration nor knew of its existence. I was also afforded the opportunity to explore some of the St. Louis area, such as the Cathedral Basilica of St. Louis, which was stunning, as well as the St. Louis Arch.
Overall, my SEEK23 experience was fantastic and brought me closer to God. Since then I've continued to expand my faith, as well as attempting to expand others' faith by bringing some of my friends to Mass. I hope that I'm able to attend next year and implore any who has the chance to participate to go!
SEEK 2023 Experience – Dominic Black Polanco