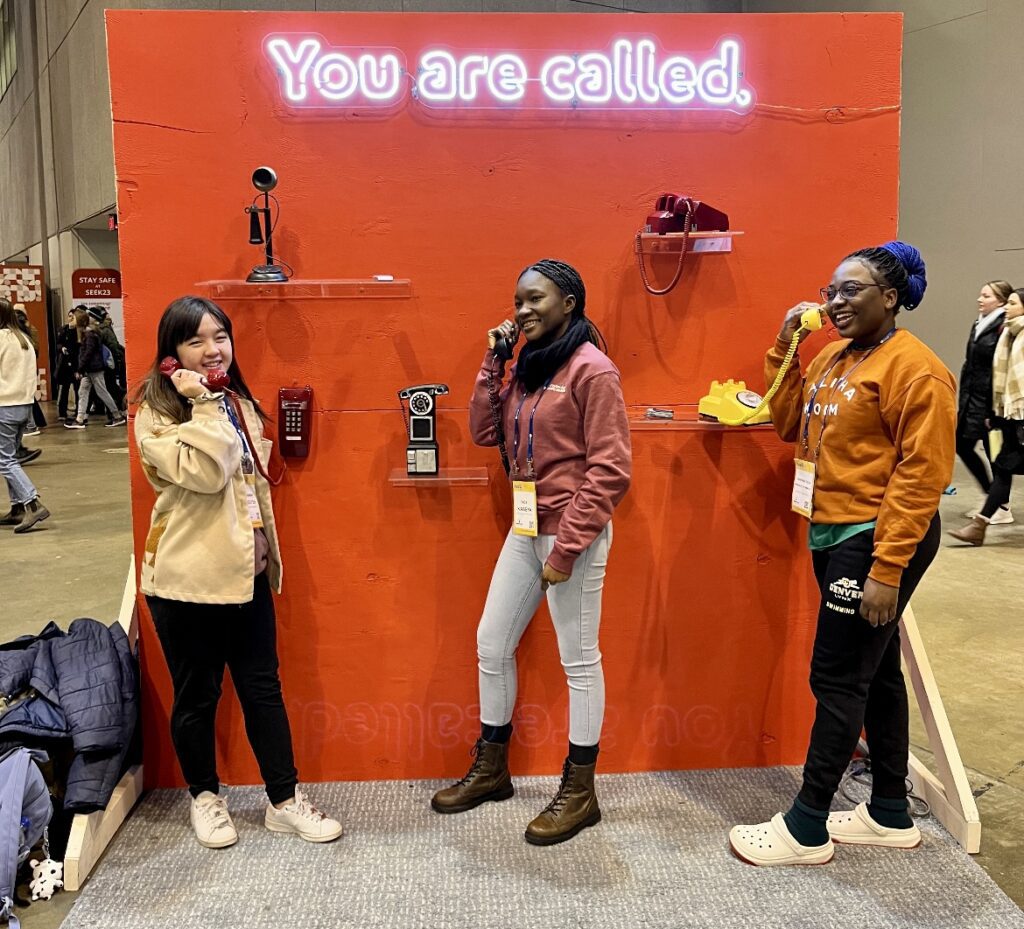 Hello everyone! My name is Hannah, I can't wait to share my SEEK experience with y'all! This was my first SEEK conference. I have been to quite a few conferences and retreats over the years, but this one was completely different than anything that I could have imagined.
Every day was a new adventure. I felt like the Lord guided every footstep that week.
There were so many incredible speakers. Every talk seemed to have reached every part of my life in one way or another. I loved getting to see Father Mike, Emily Wilson, and so many others. I stumbled across a talk from Father Josh Johnson that changed the entire way that I pray. I was not planning on going to it, but happened to walk past the hall at the perfect time. It showed me that nothing is a coincidence, everything is a God instance.
It was incredibly special to see so many people on fire for the Lord. I loved getting to meet new people and be reunited with old friends. It was a great gift from God to be surrounded with so much love and joy. I gained so many amazing friends that I will walk with for the rest of my life. There were many moments that we were able to share with each other how God is working in each of our lives. The Lord moved all our hearts and it was beautiful to see how He catered to each one of us. Memories were made that I will never forget, we got to dance together, there was endless laughter, and many tear filled moments. All of those moments are a gift that I could never put a price on.
I loved getting to spend late nights in adoration. There was one particular night that stood out to me. It was a crazy day but I stopped by the chapel before heading back to the hotel. When I was in the chapel, for a moment the entire world seemed to stop. I reflected on the week, and wanted to thank God for every moment of it. The week was so beautiful that I found it hard to find words to say, after about an hour of thinking finally words came: "I just love you Lord. I just love you so much." After I said that, I felt like I received a long comforting hug from Jesus. It was the most peaceful moment I have had in my entire life. There is nothing in this entire world that I want more in this life than to love Jesus with my entire heart.
SEEK was a priceless, beautiful, and life changing experience. It changed the way that I see the world. I learned so much, but the main thing I learned was what love is. He says "I love you more" every moment of every day.
I am so excited to keep falling in love with the Lord again and again.
SEEK 2023 Experience – Hannah Nuguyen