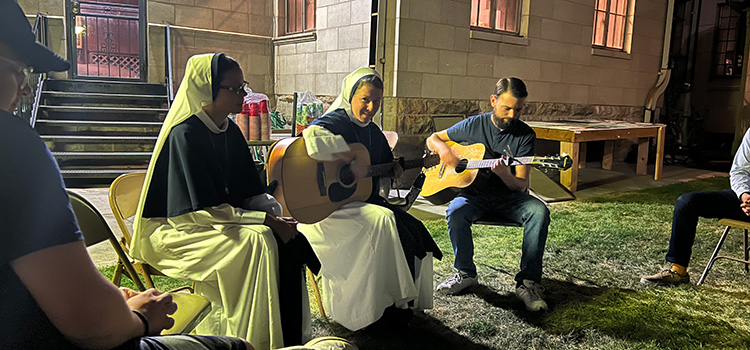 Dear brothers and sisters,
Since September 25th, our FOCUS missionaries have started with student bible studies. We currently have three studies for boys and three for girls.
Fortunately, we are having an excellent attendance. It is a joy to have the corridors of the Friary filled with laughter and activity.
The first floor of the Friary is currently functioning as a Catholic Student Center for the people of the Auraria Campus. Besides coming for bible study, the students come to do homework, find new friends, do other activities, have lunch, pray at the Church, and hang out with other faith-filled people in a healthy environment.
About ten days ago, we had the visit of the Sisters of Life. They came to accompany our students, particularly the young women, in their faith journey. We started the day with a talk and adoration. The sisters joined us for the barbecue and the sports.
They prayed Vespers with the students in the evening and had dinner with us. They were also available to meet with the girls at different points of the day for a one-on-one chat.
A highlight for the students was playing music and singing with the sisters after dinner. One of the sisters and one of our missionaries skillfully played the guitar, and we had a great time in the back garden of the Friary.
I'm very grateful to the Sisters of Life for their visit, and we look forward to having them back soon!
May our Lady of Guadalupe keep us always close to her Son.
Yours in Christ,
Fr. Richard, MC