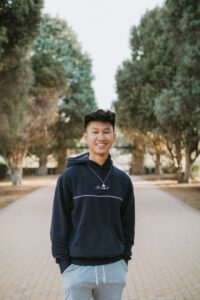 Hello! My name is Andrew Nguyen and I am currently a freshman at the University of Colorado Denver. SEEK 23 was my first ever SEEK conference and I enjoyed it so much! For those of you who do not know, SEEK is a conference for college students where there are keynotes about our faith and how to live it out, fun events and games to build relationships and fellowship, information and shopping booths, and a beautiful adoration procession. Furthermore, there are also constant opportunities for confession, prayer, and counseling.
An incredible part of the conference that stuck with me was witnessing thousands of people gathering together and so devoutly worshiping the Lord. Seeing how devout and pious everyone was truly inspired and motivated me to further explore my faith and devote myself to the Lord. As a result, this made me realize that I can do so much more in terms of growing in my faith and that there is so much that God has to offer for us if we say yes to Him.
There were also a multitude of famous faces such as Fr. Mike Schmitz, Dr. Edward Sri, Sr. Bethany Madonna and Sr. Miriam James and many more who made appearances at the conference and gave keynote sessions throughout the conference. I loved the conference so much because I was constantly reminded of God's endless love for me and how He wants to have a relationship with me. I believe a lot of us end up forgetting how loving and merciful our Lord God is despite hearing the message so many times. SEEK was a constant reminder of that love, and I am so grateful to have been able to receive and experience it so overwhelmingly.
Overall, my favorite experience at SEEK was the adoration and procession. Though kneeling on the ground was painful, the gaze of Jesus touched my heart in a way that I had never experienced before. The two hours of adoration and worship brought me a peace that my heart had always longed for, and from that realization, I realized that true peace and happiness can only be found in the Lord.
The music ministry that was provided during the mass services and adoration lifted my heart up to God and allowed me to experience spiritual healing and comfort in the Lord as everybody prayed together and came together in praise and worship. As a musician myself, I was inspired to provide music in a way that is solely for the Lord and the sake of leading the congregation in prayer. I found myself playing more prayerfully and with more devotion as long as I focused on God and offering the music up to Him.
The main message that stuck with me from SEEK was a talk that spoke about suffering. Throughout the conference, the message of suffering and how it is a gift from God was eminent and provided lots of healing and comfort for me and I hope many others as well. I learned to trust in the Lord and that He will give us the graces to overcome and embrace our suffering as well as the trials of life. Embracing suffering is the path to holiness, and the path to Heaven is holiness. Praise God now and forever. Amen
SEEK 2023 Experience – Andrew Nguyen