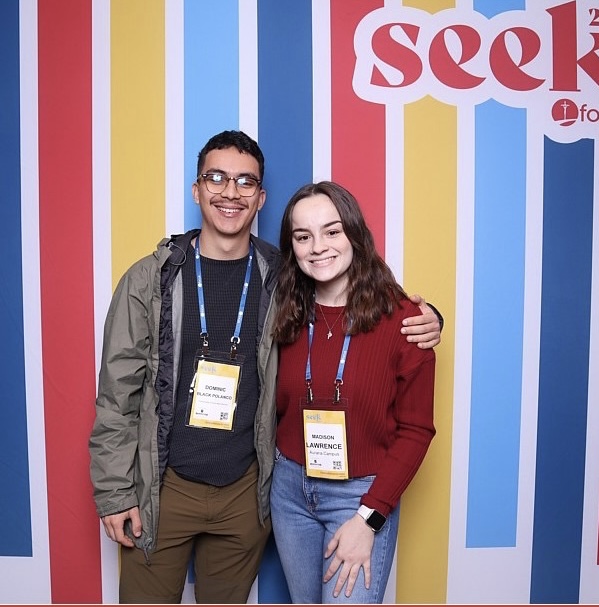 Hi, my name is Madison. I was born and raised in Florida but moved to Denver a few years ago. Last year while on campus, I was walking to my car and I saw a group of students playing sports in the quad. I scanned the QR code they had displayed and in a few days, I connected with one of the FOCUS missionaries. Little did I know that she would change my life.
I was raised Catholic as a child, but around age 12 my family stopped going to church. Through the FOCUS group on campus, I was able to come back into my faith. One of the missionaries was able to get a spot for me in RCIA classes and I will be confirmed in May.
I was given the opportunity to go to SEEK with other students from the Auraria campus. I was very nervous to attend because I didn't know anyone who was going. Moving away from friends and family and making friends can be difficult. Throughout this trip, I was blessed to meet several missionaries and students from the Auraria campus that would later become my friends. The girls I roomed with during the conference were so kind and welcoming. We shared stories and laughs and became friends. I am so blessed to have met them.
SEEK gave me the opportunity to not only make friends but to grow in my faith. The days were packed with wisdom and guidance. The daily women's talks gave beautiful guidance on how to be a holy woman in today's world. The impact sessions tackled hot topics like abortion and same-sex attraction. The way that these speakers so beautifully represented the faith and passed on their wisdom and guidance was truly impactful. The speakers were very open and shared their own struggles and experiences to allow us to learn from them. There wasn't a single talk I attended that didn't leave an impact on me. I gained so much knowledge about the Church and Catholicism from SEEK.
I got to experience and learn about so many cool new things at SEEK. The diversity of the attendees was insane. There were people from all over the world, many different orders of priests and nuns, and catholic companies involved in all parts of life. I talked to the MetaCatholic people for over an hour. They are working on Catholic-based VR. I even saw a nun trying out the VR experience they created. It was truly amazing to see all these people from different backgrounds gathering to worship Jesus.
By far my favorite experience at SEEK was adoration. It was my first time attending adoration, and I didn't know what to expect. Seeing thousands of people on their knees worshipping Jesus was awe-inspiring. Jesus entered my heart that night in such a profound way. The realization that Jesus made Himself present in that little Eucharist for all of us to be there with Him was remarkable. I left adoration that night with an even deeper appreciation for the Eucharist.
SEEK helped deepen my love and understanding of Jesus. I truly gained so much knowledge and experience from all the wonderful people I met there. I am so blessed to have had this opportunity.
SEEK 2023 Experience – Madison Lawrence