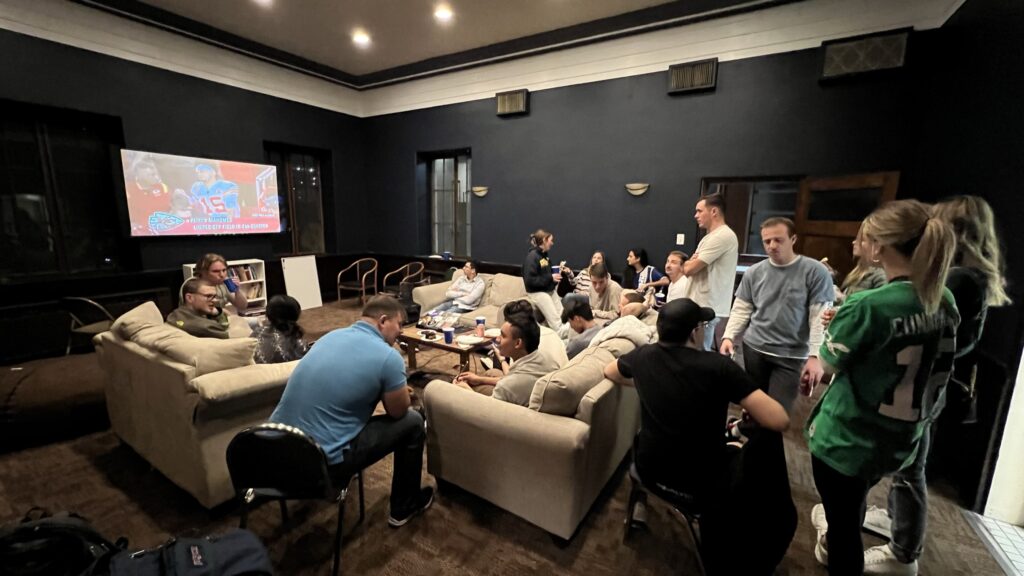 Dear brothers and sisters,
Last Sunday morning, we enjoyed a significant number of parishioners joining us for coffee and doughnuts. It was an excellent opportunity to get to know new people and say hello to old friends. We hope to continue this activity on the second Sunday of every month.
In the afternoon, we had a Superbowl party for college students and young adults. We started with Holy Mass at 3:00 PM. Afterward, the party started promptly at 4:00 PM. The FOCUS missionaries had prepared delicious finger food. I also prepared Argentine caramel flan. Apparently, it got good ratings. I've heard I'm supposed to prepare flan for the next Sunday's coffee and doughnuts.
The party was attended by more than 30 college students and young adults. It was an excellent opportunity for deeper fellowship, great conversations, and tasty food!
As you know, we have restarted the bible studies. We now have a good problem. There are more than 13 girls interested or attending Tuesday's bible study, so we need to open more! This is on top of the already four bible studies we have for the boys.
Talking about bible studies, we will have a ten-week long bible study available to all our parishioners after Mass starting next Sunday. The study is entitled "Jesus: The Way, the Truth, and the Life." It is filmed in the Holy Land and it is put on by Ascension Press. There is no need to get the books, but you may do so if you like. Each week we will watch a video and have a discussion afterward.
May our Lady of Guadalupe guide us through the Lenten Season we start on Wednesday.
Yours in Christ,
Fr. Richard, MC