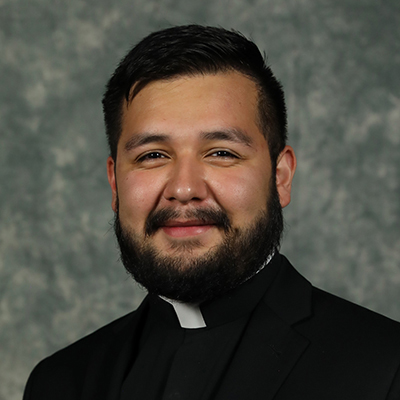 Hello, parishioners of St. Elizabeth of Hungary Parish! My name is Luis Corral. I am a fifth-year seminarian serving for the Archdiocese of Denver. A fun fact about me is that not only am I a Denver native, but I'm also a first-generation American. Although my parents were raised in Mexico for most of their lives, they came to the United States in their later years and have lived here in Colorado since. I am also the second of four boys, one of whom is my twin brother, so I'll let you all do the math on who's the oldest.
Growing up, I found my call to the priesthood during my junior year of high school, and once I graduated from Jefferson Jr./Sr. High, I applied and was accepted as a seminarian.
From there, I was sent to the Diocese of Lincoln to study at St. Gregory the Great Seminary and was in the land of the corn for two years. While there, I received many blessings from God, such as a background in teaching, a deeper understanding of the faith, and the most significant gift of growing in a more extraordinary relationship with Christ.
Although I received great formation, I was excited to return to Denver at the end of 2021. Once I arrived, I continued my studies at St. John Vianney Theological Seminary in Denver. For the past couple of years, I have had the great privilege of learning and experiencing the beauty of philosophy and adopting the different spiritualities of the Church into my own life.
As for this year, I have decided to take a break from intellectual formation being my primary concern, and have a more intentional focus on pastoral work.
That said, I have been assigned to the Cathedral Basilica of the Immaculate Conception. As an extension, I have been asked to minister to the Auraria campus and work with the Order of Miles Christi and, through them, FOCUS.
I cannot express in this letter the excitement I have for the blessings and graces that the Lord will bring from this next school year for this assignment and from meeting all of you! I ask that you keep me in your prayers so that I may do everything within this next year with faith, reverence, and love. Know of my continued prayer for you, and I look forward to meeting you all personally very soon. 🙂
Luis Corral
Seminarian of the Archdiocese of Denver
Welcoming Luis Corral to St. E's